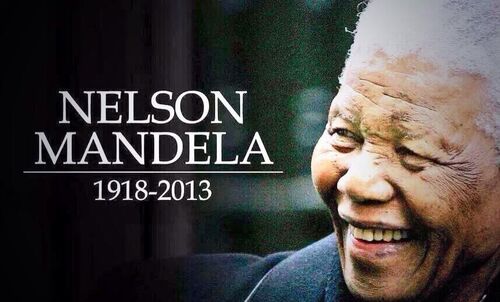 Nelson Rolihlahla Mandela (18 July 1918 – 5 December 2013) was a South African anti-apartheid revolutionary and politician who served as President of South Africa from 1994 to 1999. He was the first black South African to hold the office, and the first elected in a fully representative, multiracial election. His government focused on dismantling the legacy of apartheid through tackling institutionalised racism, poverty and inequality, and fostering racial reconciliation. Politically an African nationalist and democratic socialist, he served as the President of the African National Congress (ANC) from 1991 to 1997. Internationally, Mandela was the Secretary General of the Non-Aligned Movement from 1998 to 1999. A Xhosa born to the Thembu royal family, Mandela attended the Fort Hare University and the University of Witwatersrand, where he studied law. Living in Johannesburg, he became involved in anti-colonial politics, joining the ANC and becoming a founding member of its Youth League. After the Afrikaner nationalists of the National Party came to power in 1948 and began implementing the policy of apartheid, he rose to prominence in the ANC's 1952 Defiance Campaign, was elected President of the Transvaal ANC Branch and oversaw the 1955 Congress of the People. Working as a lawyer, he was repeatedly arrested for seditious activities and, with the ANC leadership, was prosecuted in the Treason Trial from 1956 to 1961 but was found not guilty. Although initially committed to non-violent protest, in association with the South African Communist Party he co-founded the militant Umkhonto we Sizwe (MK) in 1961, leading a bombing campaign against government targets. In 1962 he was arrested, convicted of sabotage and conspiracy to overthrow the government, and sentenced to life imprisonment in the Rivonia Trial. Mandela served 27 years in prison, first on Robben Island, and later in Pollsmoor Prison and Victor Verster Prison. An international campaign lobbied for his release, which was granted in 1990 amid escalating civil strife. Becoming ANC President, Mandela published his autobiography and led negotiations with President F.W. de Klerk to abolish apartheid and establish multiracial elections in 1994, in which he led the ANC to victory. He was elected President and formed a Government of National Unity in an attempt to defuse ethnic tensions. As President, he promulgated a new constitution and initiated the Truth and Reconciliation Commission to investigate past human rights abuses. Continuing the former government's liberal economic policy, his administration introduced measures to encourage land reform, combat poverty, and expand healthcare services. Internationally, he acted as mediator between Libya and the United Kingdom in the Pan Am Flight 103 bombing trial, and oversaw military intervention in Lesotho. He declined to run for a second term, and was succeeded by his deputy, Thabo Mbeki. Mandela subsequently became an elder statesman, focusing on charitable work in combating poverty and HIV/AIDS through the Nelson Mandela Foundation. Mandela was a controversial figure for much of his life. Right-wing critics denounced him as a terrorist and communist sympathiser. He nevertheless gained international acclaim for his anti-colonial and anti-apartheid stance, having received more than 250 honours, including the 1993 Nobel Peace Prize, the US Presidential Medal of Freedom, and the Soviet Order of Lenin. He is held in deep respect within South Africa, where he is often referred to by his Xhosa clan name, Madiba, or as Tata ("Father"); he is often described as "the father of the nation". Mandela died following a long illness on 5 December 2013 at his home in Johannesburg.
Early life
Childhood: 1918–1936
Mandela was born on 18 July 1918 in the village of Mvezo in Umtatu, then a part of South Africa's Cape Province. Given the forename Rolihlahla, a Xhosa term colloquially meaning "troublemaker", in later years he became known by his clan name, Madiba. His patrilineal great-grandfather, Ngubengcuka, was ruler of the Thembu people in the Transkeian Territories of South Africa's modern Eastern Cape province. One of this king's sons, named Mandela, became Nelson's grandfather and the source of his surname. Because Mandela was only the king's child by a wife of the Ixhiba clan, a so-called "Left-Hand House", the descendants of his cadet branch of the royal family were morganatic, ineligible to inherit the throne but recognized as hereditary royal councillors. Nonetheless, his father, Gadla Henry Mphakanyiswa, was a local chief and councillor to the monarch; he had been appointed to the position in 1915, after his predecessor was accused of corruption by a governing white magistrate. In 1926, Gadla, too, was sacked for corruption, but Nelson would be told that he had lost his job for standing up to the magistrate's unreasonable demands. A devotee of the god Qamata, Gadla was a polygamist, having four wives, four sons and nine daughters, who lived in different villages. Nelson's mother was Gadla's third wife, Nosekeni Fanny, who was daughter of Nkedama of the Right Hand House and a member of the amaMpemvu clan of Xhosa.
Later stating that his early life was dominated by "custom, ritual and taboo", Mandela grew up with two sisters in his mother's kraal in the village of Qunu, where he tended herds as a cattle-boy, spending much time outside with other boys. Both his parents were illiterate, but being a devout Christian, his mother sent him to a local Methodist school when he was about seven. Baptised a Methodist, Mandela was given the English forename of "Nelson" by his teacher. When Mandela was about nine, his father came to stay at Qunu, where he died of an undiagnosed ailment which Mandela believed to be lung disease. Feeling "cut adrift", he later said that he inherited his father's "proud rebelliousness" and "stubborn sense of fairness". His mother took Mandela to the "Great Place" palace at Mqhekezweni, where he was entrusted under the guardianship of Thembu regent, Chief Jongintaba Dalindyebo. Although he would not see his mother again for many years, Mandela felt that Jongintaba and his wife Noengland treated him as their own child, raising him alongside their son Justice and daughter Nomafu. As Mandela attended church services every Sunday with his guardians, Christianity became a significant part of his life. He attended a Methodist mission school located next to the palace, studying English, Xhosa, history and geography. He developed a love of African history, listening to the tales told by elderly visitors to the palace, and becoming influenced by the anti-imperialist rhetoric of Chief Joyi. At the time he nevertheless considered the European colonialists as benefactors, not oppressors. Aged 16, he, Justice and several other boys travelled to Tyhalarha to undergo the circumcision ritual that symbolically marked their transition from boys to men; the rite over, he was given the name "Dalibunga".
Clarkebury, Healdtown and Fort Hare: 1936–1940
Please Look Here for Information at wikipedia.
Arriving in Johannesburg: 1941–1943
Please Look Here for Information at wikipedia.
Revolutionary activity
Law studies and the ANC Youth League: 1943–1949
Click on All Information Here above for Revolutionary activity.
Defiance Campaign and Transvaal ANC Presidency: 1950–1954
Click on All Information Here above for Revolutionary activity.
Congress of the People and the Treason Trial: 1955–1961
Click on All Information Here above for Revolutionary activity.
Umkhonto we Sizwe and African tour: 1961–1962
Click on All Information Here above for Revolutionary activity.
Imprisonment
Look Here for full Information on Imprisonment.
Arrest and Rivonia trial: 1962–1964
Look above on "Imprisonment".
Robben Island: 1962–1982
Look above on "Imprisonment".
Pollsmoor Prison: 1982–1988
Look above on "Imprisonment".
Victor Verster Prison and release: 1988–1990
Look above on "Imprisonment".
The end of apartheid
Full Information Here on "The end of apartheid"
Early negotiations: 1990–1991
Look above on "The end of apartheid".
The CODESA talks: 1991–1992
Look above on "The end of apartheid".
General election: 1994
Look above on "The end of apartheid".
Presidency of South Africa: 1994–1999
Mandela's inauguration took place in Pretoria on 10 May 1994, televised to a billion viewers globally. The event was attended by 4000 guests, including world leaders from disparate backgrounds. South Africa's first black President, Mandela became head of a Government of National Unity dominated by the ANC – which alone had no experience of governance – but containing representatives from the National Party and Inkatha. In keeping with earlier agreements, de Klerk became first Deputy President, while Thabo Mbeki was selected as second. Although Mbeki had not been his first choice for the job, Mandela would grow to rely heavily on him throughout his presidency, allowing him to organise policy details. Moving into the presidential office at Tuynhuys in Cape Town, Mandela allowed de Klerk to retain the presidential residence in the Groote Schuur estate, instead settling into the nearby Westbrooke manor, which he renamed "Genadendal", meaning "Valley of Mercy" in Afrikaans.[4] Retaining his Houghton home, he also had a house built in his home village of Qunu, which he visited regularly, walking around the area, meeting with locals, and judging tribal disputes.
Aged 76, he faced various ailments, and although exhibiting continued energy, he felt isolated and lonely. He often entertained celebrities, such as Michael Jackson, Whoopi Goldberg, and the Spice Girls, and befriended a number of ultra-rich businessman, like Harry Oppenheimer of Anglo-American, as well as British monarch Elizabeth II on her March 1995 state visit to South Africa, resulting in strong criticism from ANC anti-capitalists. Despite his opulent surroundings, Mandela lived simply, donating a third of his 552,000 rand annual income to the Nelson Mandela Children's Fund, which he had founded in 1995. Although speaking out in favour of freedom of the press and befriending many journalists, Mandela was critical of much of the country's media, noting that it was overwhelmingly owned and run by middle-class whites and believing that it focused too much on scaremongering around crime. Changing clothes several times a day, after assuming the presidency, one of Mandela's trademarks was his use of Batik shirts, known as "Madiba shirts", even on formal occasions. In December 1994, Mandela's autobiography, Long Walk to Freedom, was finally published. In late 1994 he attended the 49th conference of the ANC in Bloemfontein, at which a more militant National Executive was elected, among them Winnie Mandela; although she expressed an interest in reconciling, Nelson initiated divorce proceedings in August 1995. By 1995 he had entered into a relationship with Graça Machel, a Mozambican political activist 27 years his junior who was the widow of former president Samora Machel. They had first met in July 1990, when she was still in mourning, but their friendship grew into a partnership, with Machel accompanying him on many of his foreign visits. She turned down Mandela's first marriage proposal, wanting to retain some independence and dividing her time between Mozambique and Johannesburg.
National reconciliation
Domestic programs
Foreign affairs
Withdrawing from politics
Retirement
Continued activism: 1999–2004
"Retiring from retirement", illness: 2004–2013
"Retiring from retirement" Click Here
Personal and public life
Image
Across the world, Mandela came to be seen as "a moral authority" with a great "concern for truth". Considered friendly and welcoming, Mandela exhibited a "relaxed charm" when talking to others, including his opponents. Although often befriending millionaires and dignitaries, he enjoyed talking with their staff when at official functions. In later life, he was known for looking for the best in everyone, even defending political opponents to his allies, though some thought him too trusting of others. He was renowned for his stubbornness and loyalty, and exhibited a "hot temper" which could flare up in anger in certain situations, also being "moody and dejected" away from the public eye. He also had a mischievous sense of humour. Very conscious of his image, throughout his life he sought fine quality clothes, carrying himself in a "regal style" stemming from his childhood in the Thembu royal house, and during his presidency was often compared to a constitutional monarch. Considered a "master of imagery and performance", he excelled at presenting himself well in press photographs and producing soundbites. In late 1996 Mandela was asked by friends if he was religious, Mandela explained he was a Methodist but he felt as ease in any house of prayer.
Political ideology
Mandela was an African nationalist, an ideological position he held since joining the ANC, also being "a democrat, and a socialist". Although he presented himself in an autocratic manner in several speeches, Mandela was a devout believer in democracy and would abide by majority decisions even when deeply disagreeing with them. He held a conviction that "inclusivity, accountability and freedom of speech" were the fundamentals of democracy, and was driven by a belief in natural and human rights. This belief drove him to not only pursue racial equality but also to promote gay rights as part of the post-apartheid reforms. A democratic socialist, Mandela was "openly opposed to capitalism, private land-ownership and the power of big money". Influenced by Marxism, during the revolution Mandela advocated scientific socialism, although he denied being a communist during the Treason Trial. Biographer David James Smith thought this untrue, stating that Mandela "embraced communism and communists" in the late 1950s and early 1960s, though was a "fellow traveller" rather than a party member. In the 1955 Freedom Charter, which Mandela had helped create, it called for the nationalisation of banks, gold mines, and land, believing it necessary to ensure equal distribution of wealth. Despite these beliefs, Mandela nationalised nothing during his presidency, fearing that this would scare away foreign investors. This decision was in part influenced by the fall of the socialist states in the Soviet Union and Eastern Bloc during the early 1990s.
Family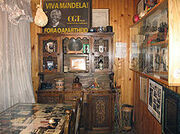 Mandela was married three times, fathered six children, had 17 grandchildren and a growing number of great-grandchildren. He could be stern and demanding of his children, although he was more affectionate with his grandchildren. Mandela's first marriage was to Evelyn Ntoko Mase, who was also from the Transkei, although they met in Johannesburg before being married in October 1944. The couple broke up in 1957 after 13 years, divorcing under the multiple strains of his adultery and constant absences, devotion to revolutionary agitation, and the fact that she was a member of the Jehovah's Witnesses, a religion requiring political neutrality. The couple had two sons, Madiba "Thembi" Thembekile (1946–1969) and Makgatho Mandela (1950–2005), and two daughters, both named Makaziwe Mandela (known as Maki; born 1947 and 1953). Their first daughter died aged nine months, and they named their second daughter in her honour.Template:Cn Mase died in 2004, and Mandela attended her funeral. Makgatho's son, Mandla Mandela, became chief of the Mvezo tribal council in 2007. Mandela's second wife, Winnie Madikizela-Mandela, also came from the Transkei area, although they, too, met in Johannesburg, where she was the city's first black social worker. They had two daughters, Zenani (Zeni), born 4 February 1958, and Zindziswa (Zindzi) Mandela-Hlongwane, born 1960. Zindzi was only 18 months old when her father was sent to Robben island. Later, Winnie would be deeply torn by family discord which mirrored the country's political strife; separation (April 1992) and divorce (March 1996), fueled by political estrangement. Mandela was still in prison when his daughter Zenani was married in 1973 to Prince Thumbumuzi Dlamini, a brother of both King Mswati III of Swaziland and of Queen Mantfombi of the Zulus. Although she had vivid memories of her father, from the age of four up until sixteen, South African authorities did not permit her to visit him. In July 2012, Zenani was appointed ambassador to Argentina, becoming the first of Mandela's three remaining children to enter public life. Mandela remarried on his 80th birthday in 1998, to his third wife, Graça Machel (née Simbine), widow of Samora Machel, the former Mozambican president and ANC ally who was killed in an air crash 12 years earlier.
Death
Mandela died on December 5, 2013 at the age of 95, at his home in Houghton, Johannesburg, South Africa surrounded by his family. His death was announced by President Jacob Zuma.
Legacy
The rest of this Information is link Here at wikipedia......
External links