Memory Of Selena Quintanilla-Pérez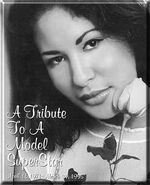 Memory Of Selena Quintanilla-Pérez
(April 16, 1971 – March 31, 1995)
Selena was born in Lake Jackson, Texas, to a Mexican father, Abraham Quintanilla Jr. and a Mexican-American mother, Marcella Ofelia Samora, and was raised as a Jehovah's Witness. She began singing at the age of six; when she was nine her father founded the singing group Selena y Los Dinos, which she fronted. They initially performed at the Quintanilla family's restaurant, PappaGayo's, but the restaurant failed shortly afterwards.
The family soon went bankrupt and was evicted from their home. Taking their musical equipment in an old bus, they relocated to Corpus Christi, Texas. There, they performed wherever they could: at street corners, weddings, quinceañeras, and fairs. Their efforts at spreading their names and talents paid off in 1985 when the fourteen-year-old Selena recorded her first album for a local record company. The album was not sold in stores and her father bought all of the original copies. It was re-released in 1995 under the title Mis Primeras Grabaciones.
Selena did well in school, but as she grew more popular as a musical performer, the travel demands of her performance schedule began to interfere with her education. Her father pulled her out of school altogether when she was in eighth grade. She continued her education on the road; at age seventeen she earned a high school diploma from The American School of Correspondence in Chicago, Illinois. Selena released her second album, Alpha, in 1986.
Web Site
IMDb Page:IMDb Profile
Tv.com: Tv.com Profile
Tv.com Remembering: Tv.com Memory
The Q: Q Productions
Remembering Selena: Forever